Diversity in material
Silicon (Si)
---
Silicon is a material that can be used in many applications – from high-purity, monocrystalline silicon wafers for microelectronics or for research and development purposes to polycrystalline wafers and sputtering targets for coating other materials. But other silicon components, too, such as substrate carriers, lenses, wafer boats and structural components, as well as complex customised products, are also used in various industries. Due to its good transmission values in the IR range, silicon is also particularly suitable for infrared applications in the optical industry.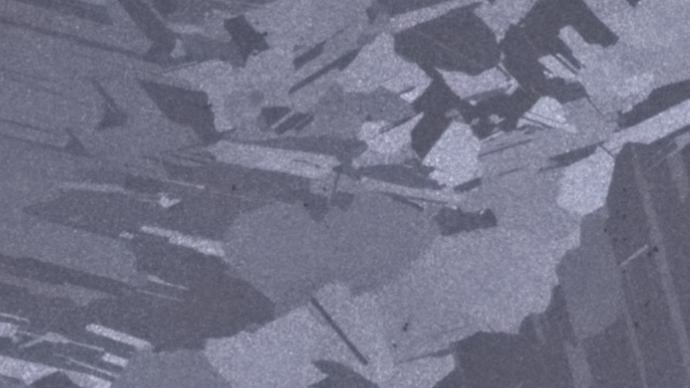 Machining of silicon
Sawing, grinding, milling, drilling – the manufacturing of a variety of different silicon products requires different mechanical methods and a production process adapted to the material and the application. Among other things, it is important to minimise kerf loss and, depending on the application, to prevent surface and structural changes caused by machining as far as possible or, where these arise, to remedy them with suitable processes (for instance fine grinding and polishing). With our machining facilities tailored to the material properties and the use of appropriate tools (e.g., specialist diamond tools), we can successfully and efficiently meet the challenges posed by silicon as a hard, brittle material.
---
FROM WAFERS THROUGH SPUTTERING TARGETS RIGHT UP TO COMPLEX GEOMETRIES
As a company specialising in the machining of hard and brittle materials, we have the necessary experience not only in producing standardised silicon products (e.g., sputtering targets, wafers, bricks, rods, bars, plates), but also in carrying out extensive assignments with a high degree of customisation. Even geometries that are more complex can be achieved by combining different methods and by using 3- or 4-axis CNC machining centres. If required, the machined silicon components can be ground, polished, etched and marked (laser marking).
---
MATERIAL PROPERTIES
Very brittle semi-metal with semiconducting properties

Low thermal expansivity

Good machinability
Good transmission in the infrared (IR) range

Good heat resistance

Resistant to various process atmospheres
---
APPLICATIONS
Prisms and lenses (IR lenses), optical elements

IR windows

Sputtering targets
Substrate carriers

Process equipment for the semiconductor industry

Special components
---